Contents
|
Previous:
Non-liability / non-warranty / exemption
|
Up:
Contents
|
Next:
Data protection officer
You are here:
Contents
>
Data privacy
---
Data privacy
The protection of your personal data is important to us. We would therefore like to inform you here about what data we store when you visit our website, why we do this and when the data is deleted again. Personal data is all information about a named or identifiable person. This includes, for example, the name, address or telephone number, but also the IP address of the computer with which you call up our website.
Responsible for the processing of data collected on our website is: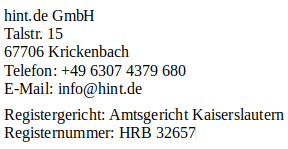 ---
---



Contents
|
Previous:
Non-liability / non-warranty / exemption
|
Up:
Contents
|
Next:
Data protection officer
You are here:
Contents
>
Data privacy